Iphone & Droid Mobile Swipe
Our Mobile credit card processing can be used by the following:
Trade Shows and Kiosks
Mobile Car Washes / Mobile Detailers
Food Trucks, Hot Dog Stands etc..
Pizza and Food Delivery
Flea Market and Gun Show Venders
Mobile Auto Repair
Home Inspection Companies
Travel Agencies
Strippers & Strip Clubs
Ecig Vendors
Before iPhone and wireless credit card processing (m-commerce) solutions became available collecting funds for orders done "on the road" required people to either pay by cash, check or write down their credit card information so you could process the transaction later back at your office. The fact is, cash and checks can get lost and credit card information, if not put in a secure place, can get into the wrong hands between the time the information was taken down and the customers card was charged. Now m-commerce solutions have taken the hassles out of doing business "on the run."
* Improved cash flow * Secure credit and debit card authorizations within a matter of seconds * Reduced instances of credit card fraud and chargebacks * Ability to conduct business where phone line connections don't exist !
Apply Today for a Merchant Account
Equipment for Wireless Credit Card Processing (Card-Present Transactions)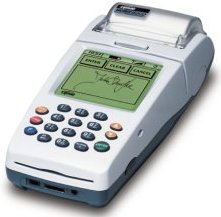 Lipman (now Verifone) has the best selling line of mobile processing solutions anywhere and the Nurit 8020 is no exception! The NURIT 8020 (formerly known as the Nurit 8000) is a PCI PED approved secure handheld solution and the best selling wireless payment device in the world. If you are a merchant on-the-go, you need a wireless credit card terminal that will keep up. With the Nurit 8020 wireless credit card machine, you can take your transactions to the customer anywhere, at anytime. This lightweight, easy-to-use machine is compact enough to take with you anywhere. The sophisticated multi-application platform supports a range of payment & value-added services - including credit, debit, T&E, EBT, smart cards, prepaid, loyalty, gift & proprietary cards - as well as business management solutions such as inventory control, dispatch, delivery, etc. The unit supports a variety of cellular networks, including GSM/GPRS, Mobitex, CDPD, DataTac, and CDMA. The terminal includes an easy-to-load thermal printer, a touch screen, built-in PIN Pad, and EMV smart card reader.
The Nurit 8020 is perfect for any merchant who needs fast transaction speed and the lower rates of a swiped transaction:
o Trade shows
o Taxis
o Limos
o Fairs and festivals
o Plumbing Contractors
o Retail Stores
o Delivery services
o In home sales
o HVAC Contractors
o Towing
o Any mobile merchant!
iPhone Credit Card Processing or Android credit card processing via your smartphone is probably one of more cost effective ways to process cards on the road. Not only does a service like this work with cell phones, but also any smartphone for that matter.
Apply Today for a Merchant Account
iPhone Credit Card Processing Terminals
Process Credit Cards and Checks Anytime, Anywhere!
iPPA gives you everything you need to accept payment wherever your job takes you.
Fast, Easy & Secure
Works with the new iPad, original iPhone, iPhone 3G, iPhone 3GS, IPhone 4, iPhone 4s, iPhone 5, iPhone 6, iPhone 7, Samsung Note 3, Note 4, Note 5, Note 8, S5, S6, S7, S8, HTC, Motorola, ZTE, Sony, Huawei and iPod touch.
Full transaction log and approval history
Robust transaction search capabilities
Required fields are clearly indicated
Single screen data entry for customer details
Concise validation and error messages
High quality user interface with large fonts and professional graphics
Robust transaction search capabilities
Ippa uses industry standard SSL security to communicate with your iPhone credit card processor over the wireless network (WiFi, 3G, EDGE). Credit card information is NEVER stored on the device.
Get paid on the spot
Process Debit Cards and any major credit card.
Get authorization in seconds - no need to write down payment information or call into your back office.
E-mail electronic receipts directly from your phone.
Access our Online Merchant Center 24/7/365 to view all your transactions and manage other Ippa users.
Add as many employees as you need to a single Ippa account by simply providing them a user ID and supported device.
Just key in card information directly into your phone or swipe cards with an optional card reader.
Credit card information is not stored in your phone - it's like using a credit card terminal. Works with the new iPad, original iPhone, iPhone 3G, iPhone 3GS, IPhone 4, iPhone 4s, iPhone 5, iPhone 6, iPhone 7, Samsung Note 3, Note 4, Note 5, Note 8, S5, S6, S7, S8, HTC, Motorola, ZTE, Sony, Huawei, LG V10, V20 and iPod touch.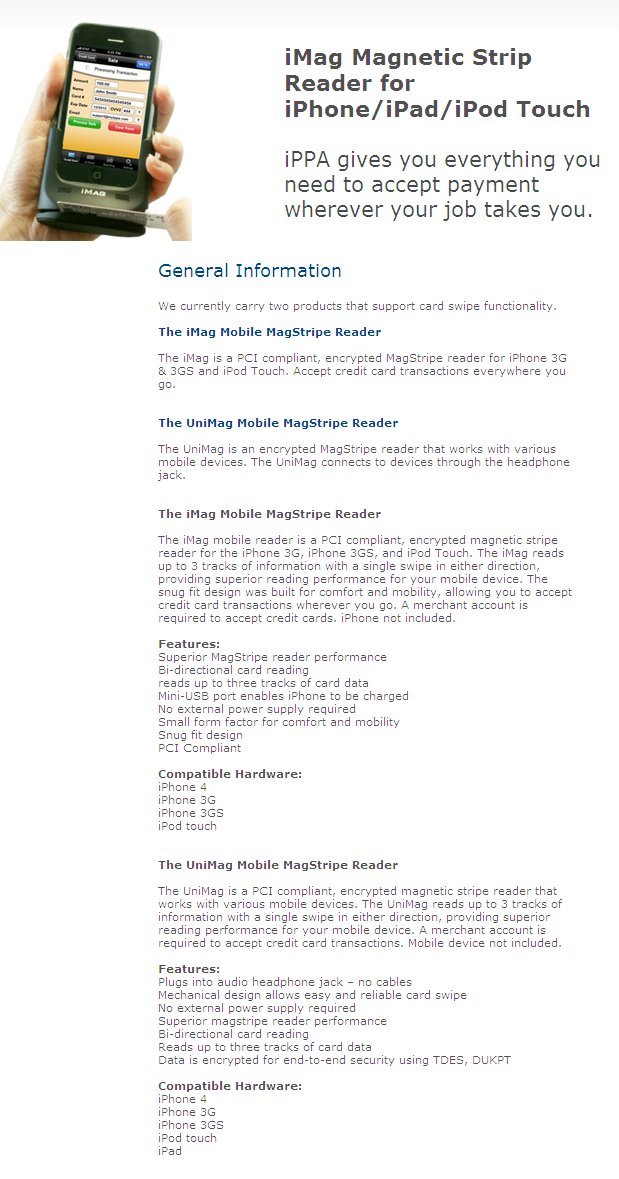 Apply Today for a Merchant Account
Features and Benefits
Retail credit card terminal solution
iPhone credit card terminals
Wireless credit card processing
iPhone credit card processing
Smartphone credit card teminal
Touch tone credit card processing
User-friendly keyboard and operational menu system
Optional swipe credit card reader
Current history and batch reports available